How NOT To Create Something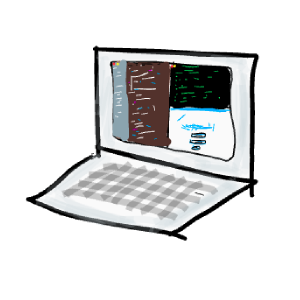 The Crisis
It's 29th of March, 2020. India has been under a nationwide lockdown since 25th to contain the Covid-19 Pandemic.
Even before the lockdown, we were given work from home for the entire week and I kind of knew this was going to come. I wanted to create something in my free time (As I am going to have too much of it.).
Before all of this happened, I've been busy trying to learn Algorithms, Data Structures and get better at solving programming questions. I had put up daily goals and were successfully completing them in a streak. But this all stopped when I started the plan to "make" something.
What am I Going to Make?
I had few ideas. One of them was an idea to make a game that's similar to the popular "Psych by Ellen"1 game, but with some additional features and UI/UX improvements to make it a lot better (I'm sorry Psych devs, the idea is brilliant, but the implementation can be a lot better). Also, the last time I tried to play Psych, they showed me a notifications which read along the lines of
"We are getting too much load which is causing issues to the game servers. Please try again later if you have trouble creating game"
So yes. Among some other brilliant ideas, I chose this. This seems doable and could be nice too to have an open source version of it.
Starting Off…
To be fair, I started off pretty well. I've been trying to learn ruby on rails and Svelte for a while, so my initial idea was to pick rails as the backend and Svelte as the frontend.
But no, I got off on the wrong foot with Ruby, too much issues and hiccups again and it didn't go as smooth as the first blog project (Because I'm a noob in Ruby/Rails, okay?. Don't Judge me!). But more because I was in a hurry. I wanted to see results fast.
I also didn't listen to a friend's advice on learning Rails slow and steady. I just wanted to make the thing; I wanted to see the results fast. (that maker instinct, you know?).
So I did the next best thing. I used Django for the backend and it was a smooth sail. Thanks to https://djangobuilder.io/, Creating models, creating REST APIs, authentication, everything was done within a day. I had also made the sequence diagram for entire game flow in PlantUML. Everything was going smooth. I was happy.
Life Gets Boring (And So Does Work)
Well, now I have a solid design, I know how to implement it. I know what to do next and that's when I got bored of it. So I did what any fullstack developer who gets bored of writing backend will do - I started doing the frontend for the game.
Initially, my plan was to make it as a progressive web app that can be played by anyone anywhere from any device, and also open source - But these two will likely not provide a smooth gaming performance when the user wants to switch apps, or do something else, etc.. So then I decided to make it using the unofficial Svelte-Native framework. It again started off great, and again I got bored of writing code that I know how it's going to be (I don't know, maybe it's the isolation combined with lack of satisfaction doing this.)
What Did I Do Next?
So I stopped. Yes, you read that right. I quit. I didn't want to make it anymore, I got tired of it.
Don't get me wrong. I still think it's a great idea and something that can be made in a week or two, I just lack the motivation to do it anymore.
Remind you, I also had my day job (I usually spent 8+ hours on work every day, even if I'm working from home.) and I can't go out and life gets tiring pretty quick. So, I get a little time to spend on the project and spending these little time on a small pet project which you're no longer motivated in makes you question your life choices.
So this is where I am right now. I quit and I'm back to learning Algorithms, Data Structures and solving competitive programming problems (Atleast that makes me feel satisfied when I see an AC submission :) )
Footnotes
Everything gets boring. Sooner or later
Even if it's something you're truly passionate about, it might get boring at one point in your life. Give up or take a break. It's your choice
Curse of knowledge slows you down (but in a good way though)
Back then when I was in college, making something was easy because I just wrote code as I went on. I didn't care about the maintainability/architecture/performance/testing concepts of the codebase. I just wrote code and it worked (quite Poorly, with a lot of bugs I had to fix later)
Now, after working with some of the best people in the industry for around 2 years, writing good quality/maintainable code with unit and integration tests, automated CI deployments, I can't just go back to writing code careless like I used to. I question every line that I write and every choices I make. I read documentation more than I used to and think about all the real life error scenarios that might happen. This all slows me down a lot, but fortunately, that does make my code a lot better and I feel satisfied at the end of the day about having it.
Give it time folks
Rome wasn't built in a day. Don't look for results within a day or two. This was a mistake that I did. I kept on rushing and I wanted to see results quick. Maybe, just maybe, if I was a little more patient - I would still be continuing the work (and not writing this blog at all)
Take a break!
Yes I did take a break. I tried my hands on some doodling, a little bit of writing (all not worth sharing at the moment), and watching my favourite TV shows too.
What am I going to do next?
I don't know. Honestly, I have no clue. I don't even know what I'm going to have for lunch tomorrow; but if I knew, then that'd be less interesting right?, maybe it's the not-knowing part that makes our lives a little bit more interesting. You got some suggestions?
Psych is a party game in which people can put up fake answers to questions (which can be from a particular theme) and score points by making other people pick your made up answer. Except it really doesn't have to be a party game. You should be able to play it online with anyone across the world. ↩