The Mother Cat
This story is also available in Malayalam
The Mother Cat
She has been a usual visitor ever since we moved to our new house. "The Mother Cat"!
She had brown skin, a round beautiful face filled with courage and vigour and a full stomach.
Usually, my grandma has the habit of naming every single cat - even the stray ones. But in this case, she didn't name her. We just called her "The Mother Cat" (taḷḷa pūcca in Malayalam)
She used to lay on the sack inside the barn when it rains and on the north slope of our house otherwise. She had a special ability to know whenever we bought fish at home.
She is not guarding (I won't even call it guarding!) the house out of love, her target, of course, is having food. Grandma liked her a lot too. Somehow, she got a special consideration than other cats.
When she disappeared for a few days, we were kinda sure about it - as we expected, she gave birth to 4 beautiful kittens! The delivery was comfortable in the barn itself. Four cute kittens, one white, two brown, and one slightly darkish brown.
Gradually, the kittens started walking, they learned to fetch food from us, touch grandmas legs and walk around to please her, to make beautiful little "meow sounds". Days passed as they grew up.
Two of the kittens were strangely close to each other one of them was brown and another was dark brown. They always walked together, touched each other and acted like they were a couple. We used to call them "the sisters". And one sudden day, the mother cat stopped coming. She was not there to get fish that day, and only two of her kittens - the sisters were there.. somehow she and other two kids had disappeared.
She probably passed away. Grandma was very sad about it, and so were me and mom. somehow, something felt missing without her.
Then for weeks, it was both of them, the sisters. Although they were not our house cats, they were a big deal to us and we always used to talk about them, keep the leftover food for them. Slowly, we started to forget about the mother cat.
Weeks passed. Both of them grew up. And somehow, they grew apart, relations - like everything else are not forever right?
Then it was only the darker sister, other sister stopped coming at all. Grandma called her "diii" (slang for a girl in Malayalam) and we just called her "cat", since there were no other cats in our life.
And one sudden day, we heard that sound, yes!!, the same sweet "meow", it's her, the mother cat!. Mom called me and grandma to the front and she was sitting there on top of the wall, proud as always, pregnant again. we were happy when she let out another sweet loud "meowww"
---
Now, let me rewind a bit. Let me talk about my observation, the truths, things we didn't see and notice. Or in other words - just rambling silly thoughts of me when the power was down and I had nothing else to do.
It's not so simple as we think. All these are very well planned by the cats. They have a council, they allocate grids of houses groups of cats, and then assign each cat to a house even before a new house is being built. She was assigned to our house.
The cats assigned slowly learn and understand the humans living there, they know old aged women are easier to please. They are specially trained cats to slowly subdue humans and fetch food. Every cat is tasked with a mission.
Everything went according to plan for her. She came here, got into our hearts, had enough food and freedom when she gave birth, she started training her kittens with us, teaching them all she knows about the mission, making them prepared for the life. then after the training period, she left for another duty when a new task got assigned for her.
When she left, both of her kittens were then assigned to our house, when they grew up, the food was not enough for both of them, so they had to split apart, sadly. And one of them continued!
Meanwhile, the mother cat returned after completing her mission. Maybe for the next mission. Let's wait and see!
Pictures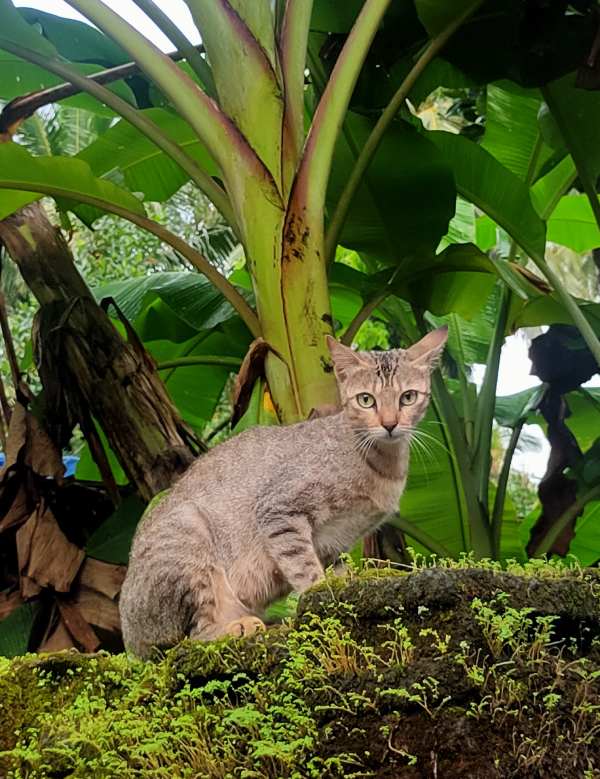 The Mother Cat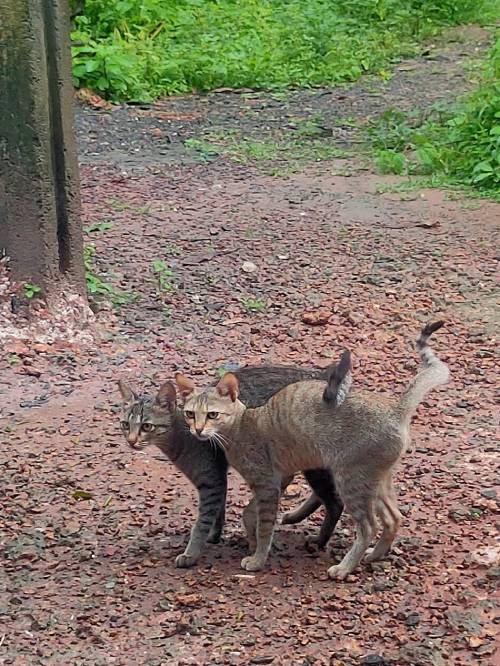 The Sisters
Corrections and comments are welcome :)